Cindy Achat-Mendes: DIRECTORY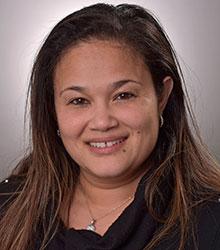 Dr. Cindy Achat-Mendes
Associate Professor of Biology
Office phone
Email Address
Biography
At Georgia Gwinnett College, Dr. Cindy Achat-Mendes is focused on cultivating an enriched academic environment for students of all backgrounds. Her teaching philosophy is simply that all students have the ability to succeed in STEM – provided they have the tools needed to succeed. Thus, her work is centered on equipping students with critical learning skills, while identifying barriers to their success and creating effective solutions that meet their needs.
Achat-Mendes is privileged to serve the diverse student body of GGC and endeavors to achieve synergy in this diversity. She is passionate about mentoring student bench research in order to prepare students for careers in STEM. She also helped create the Peer Supplemental Instruction (PSI) program to help STEM majors succeed in rigorous coursework.
Achat-Mendes began college as an international student from Trinidad and Tobago and personally understands the need to create a fair and welcoming academic environment for all students, regardless of origin, orientation, ethnicity and academic background.
Learn more about the work of Dr. Cindy Achat-Mendes.
Education
Doctorate – neuroscience – University of Miami School of Medicine
Bachelor's – biology and psychology – Armstrong Atlantic State University
Academic Interests
Diversity, equity and inclusion in STEM education
Science and technology policy
Behavioral neuroscience
Undergraduate student research
Publications
Selected Peer-reviewed Publications
Achat-Mendes C, Anfuso C, Johnson C, Shepler B, Hurst-Kennedy J, Pinzon K, Simmons R, Dekhane S, Savage J, Sudduth E, D'Costa A, Leader T, Pursell D, Runck C, Awong-Taylor J (2020). Learning, Leaders, and STEM skills: Adaptation of the supplemental instruction model to improve STEM education and build transferable skills in undergraduate courses and beyond. Journal of STEM Education: Innovation and Research Vol 20 No 2, 5-14.
Worthman CM, Kruger AC, Achat-Mendes C, Lhamo T, Wangyal R, Gyatso G, Gray KM (2021) Boundary crossing by a community of practice: Tibetan Buddhist monasteries engage science education. Frontiers in Communication 2021 October.
Hurst-Kennedy, J., Saum, M., Achat-Mendes, C., D'Costa, A., Javazon, E., Katzman, S., Ricks, E., & Barrera, A. (2020). The Impact of a Semester-Long, Cell Culture and Fluorescence Microscopy CURE on Learning and Attitudes in an Underrepresented STEM Student Population. J Microbiol Biol Educ. 2020;21(1):21.1.25.
*Fink J, *Pathak H, *Smith J, Achat-Mendes C, Haining RL (2019). Development of a Competition-Binding Assay to Determine Binding Affinity of Molecules to Neuromelanin via Fluorescence Spectroscopy. Biomolecules. May 8;9(5).
*Hall-Kim M., *Granada M., *Fuller S., *Dyle E. and Achat-Mendes C. (2018) Augmented Reinforcing and Anxiolytic Effects of Nicotine and Ethanol in Zebrafish Eastern Biologist, Zebrafish in Research and Education Special Issue 1:1–14.
Haining RL, Achat-Mendes C (2017). Neuromelanin, one of the most overlooked molecules in modern medicine, is not a spectator. Neuromelanin, one of the most overlooked molecules in modern medicine, is not a spectator Neural Regen Res. 12(3):372-375.
Achat-Mendes C, Nic Dhonnchadha BA, Platt DM, Kantak KM, Spealman RD (2012). Glycine Transporter-1 Inhibition Preceding Extinction Training Inhibits Reacquisition of Cocaine Seeking. Neuropsychopharmacology 37(13):2837-2845.
Achat-Mendes C, Platt DM, Spealman RD (2012). Antagonism of metabotropic glutamate 1 receptors attenuates behavioral effects of cocaine and methamphetamine in squirrel monkeys. J Pharmacol Exp Ther. 343(1):214-24.
Achat-Mendes C, Lynch LJ, Sullivan KA, Vallender EJ, Miller GM (2011) Augmentation of methamphetamine-induced behaviors in transgenic mice lacking the trace amine-associated receptor. Pharmacol Biochem Behav 101(2):201-207.
Achat-Mendes C, Grundt P, Cao J, Platt DM, Newman AH, Spealman RD (2010). Dopamine D3 and D2 receptor mechanisms in the abuse-related behavioral effects of cocaine: studies with preferential antagonists in squirrel monkeys. J Pharmacol Exp Ther 334:556-655.
Nic Dhonnchadha BA, Szalay JJ, Achat-Mendes C, Platt DM, Otto MW, Spealman RD, Kantak KM (2010). D-cycloserine Deters Reacquisition of Cocaine Self-Administration by Augmenting Extinction Learning. Neuropsychopharmacology 35:357-367.
Achat-Mendes C, Anderson KL, Itzhak Y (2007). Impairment in consolidation of learned place preference following dopaminergic neurotoxicity in mice is ameliorated by N-acetylcysteine but not D1 and D2 dopamine receptor agonists. Neuropsychopharmacology 32:531-541.
Achat-Mendes C, Syed SF, Itzhak Y (2005). Differential effects of amphetamines-induced neurotoxicity on appetitive and aversive Pavlovian conditioning in mice. Neuropsychopharmacology 30:1128-1137.
Itzhak Y, Achat-Mendes C (2004). Methamphetamine and MDMA (ecstasy) neurotoxicity: 'Of Mice and Men'. IUBMB Life 56:249-255.
*Student author
Distinctions
Top Claw Award
Grizzly Career Development Integration Award
AAAS Science & Technology Policy Fellow