Live On Campus
Become a Grizzly Resident
Grizzly Residents enjoy exclusive benefits of "home-suite-home" apartment-style living among a community of learners at the center of it all.
Application Steps and Login Information
Complete your application early to increase your room assignment options. Applications are processed in the order received.
Housing Application Deadlines
Fall Semester – July 31
Spring Semester – Dec. 31
Summer Semester – April 30
All applications received after the deadline will be assigned based on availability and may not be processed until after move-in for that semester.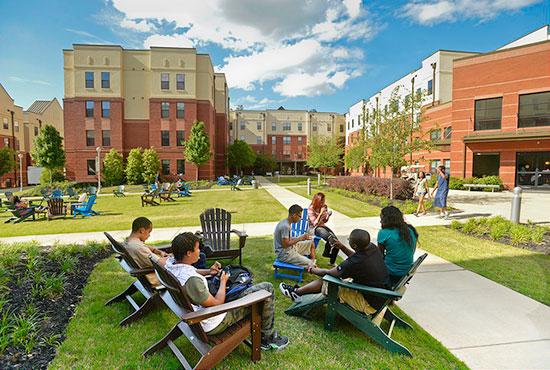 Steps to Apply for Housing
Begin this process after you have been accepted to the college and have received your GGC user ID. Housing is only available to accepted and currently enrolled GGC students.
Click the housing application portal (below) to begin your application.
Log in to the portal at the top of the page, using your GGC username before the @ symbol. Your password is the same you use to log into Claw Mail. Issues with password? Go to MyPassword.ggc.edu to reset password. If that does not work, contact the helpdesk at 678.407.5611 or @email.
Download, complete the form including electronic signature, and upload the background check consent form. The form must be uploaded as a PDF. Students must have a clean background to reside in GGC student housing.
Pay the $250 non-refundable application fee with a credit card on the portal (for fall and spring semesters only). Rooms are not guaranteed and are based on availability and your ability to pay.
Sign your housing contract.
Get advised and register for classes when registration begins for the upcoming semester and attend Grizzly Orientation (if you are a new student). All residents must be GGC students.
Check the application status page for updates by logging back in to the housing application portal. Fall assignments start mid-July, spring assignments start mid-December, and summer assignments start mid-April.
Housing Application Portal
Health Precautions
GGC is committed to ensuring that student resident facilities minimize the risk of exposure to infectious diseases. Some of the proactive measures include the following:
Masks required on campus – all faculty, staff, students and visitors are required to wear an appropriate face covering while inside campus facilities/buildings where six feet social distancing may not always be possible. Face covering use is in addition to and is not a substitute for social distancing.
Face coverings are not required in one's dorm room or suite, when alone in an enclosed office or study room, or in campus outdoor settings where social distancing requirements are met.
Suite-style living – each student resident will have a private bedroom and bathroom shared with only one other suitemate. (This does not mean only two people per suite.) Suite sizes are 12, 8, 6, 4, 3 and 2 bedrooms.
Limited access – only student residents and staff in housing are allowed in the residence hall with no visitors being admitted. Only residents will be allowed in their suite. Residents will NOT be allowed to visit in other suites.
Common space cleaning is based on CDC guidelines.
Touchless hand sanitizers are located at every entrance.
Health Services is located on-campus in the Health and Sciences Building (Building H).