Joseph Ametepe: DIRECTORY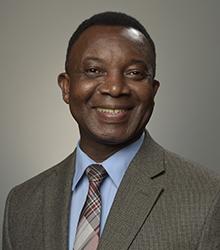 Dr. Joseph Ametepe
Associate Dean, Professor of Physics
Biography
Dr. Ametepe joined GGC in 2011 as an associate professor of physics with 15 years of teaching, research and leadership experience. Before joining GGC, Ametepe served as the chair of the physics department at Hollins University for 10 years and has received several teaching, research and service awards.
Ametepe obtained his Ph.D. in applied science from the College of William & Mary, with focus in studying plasmas for materials processing. While a graduate student at the College of William & Mary, he worked on various research projects at the Applied Research Center (ARC) and the Thomas Jefferson Research Laboratory both in Newport News, Va. He has two other master's degrees in applied mathematics and applied science from Hampton University and the College of William & Mary respectively. His undergraduate degree in mathematics is from the University of Science and Technology in Ghana. 
Ametepe's research interests are in the areas of biological physics, interdisciplinary science education/research, computational simulation of the interaction of photons with disease causing pathogens and designing/studying special UV light sources to destroy viruses and bacteria for the purpose of cleaning drinking water. Ametepe's work in developing special UV light sources for various applications has received much press coverage. He has two patents and published a number of papers in peer-reviewed journals. 
In addition to his research interests, Ametepe has a great passion for teaching and has taught many courses including physics at all levels, astronomy, earth science, introductory biological physics, environmental science, renewable energy sources, introduction to meteorology – the atmosphere, integrated science for teacher certification and other interdisciplinary related courses.
Ametepe enjoys gardening and other outdoor activities. He is active in martial arts, holds a third-degree black belt in taekwondo from Taekwondo America, and has competed and won gold medals in many taekwondo regional and national tournaments. He has a great passion for soccer and is an excellent player.
Education
Doctorate – applied science/physics – College of William & Mary
Master's – applied science/physics – College of William & Mary
Master's – applied mathematics – Hampton University
Bachelor's – mathematics – University of Science and Technology, Ghana
Academic Interests
Biological physics
Interdisciplinary science education/research
Computational simulation of interaction of photons with disease-causing pathogens
Designing/studying special UV light sources for destroying viruses and bacteria
Distinctions
Distinguished Service Award, Hollins University
Faculty Teaching Award, Hollins University
Herta Freitag Faculty Legacy Award, Hollins University