Student Services
Mail Services
Georgia Gwinnett College offers a growing range of mail and copy services. Please feel free to contact us. We welcome the opportunity to help you with your mailing, shipping and copy/print needs.
Description of Services
Mail Services
Mail Services are available in the Claw Card office and Mail Services Center, located in Building D.  
The Mail Services Center provides a range of services including, but not limited to the following:
Prepaid shipping of FedEx and UPS
All USPS services (except money orders and registered mail)
Shipping supplies
Email @email or call 678.407.5529 for more information.
Copy Services
Students may make copies in the Library. Students may pay for copies using either their Claw Card or Cave Cash.
Student organizations that need of copies should go through Student Life.
Student Mail
Proper Addressing of Student Mail
For accurate mail delivery, the mailing address must be complete, legible and formatted correctly.
To avoid any unnecessary delays, all student mail addressed to the college should be addressed with the recipient name on the first line, Georgia Gwinnett College on the second line, the street address followed by the box number on the third line and the city, state and zip code on the last line. The following is a visual of the required envelope layout: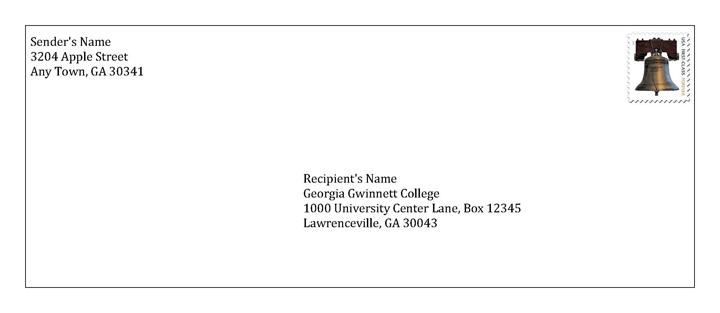 Receiving a Mailbox
For new students, approximately two weeks after move-in you will receive an email when mailbox sign-up opens. This must be done in-person as we need to see your Claw Card to verify your identity.
If you are a returning housing resident and had a mailbox the previous semester, you will continue to have the same mailbox for as long as you are a campus resident.
Sending Mail to a Student
The student is responsible for knowing and managing their address.
All mail should be addressed with the correct mailbox number and valid zip code. Always use the student's full name, as listed with the GGC Registrar. Use of another name may prevent mail from reaching the student and being returned.
Special occasion and holiday cards are prime targets for theft. To minimize the threat to the student's parcels please do not send cash through the mail.
Mail Services recommends using a trackable method of mailing such as delivery confirmation or priority mailing. When sending packages, tracking will indicate when a package has arrived at the college's warehouse, not when your student has received it​.
Package Receipt
Mail Services receives direct packages from the United States Postal Service only.
United Parcel ​Service, Federal Express, Airborne and DHL are delivered to the GGC warehouse initially and then delivered to Mail Services, which may delay the student receiving their package. Students may see a delivered email from the carrier, but students will not be able to pick up until the package has reached the mail room.
Students will be notified through their GGC email address when a package arrives and is ready for pick up. Students need to present their GGC ID to retrieve packages. Oversized packages can only be picked up in the mail room.
Smart Lockers are available inside Building 1000. Packages able to be delivered to the Smart Lockers that have not been picked up after three days are considered stale and will be returned to the Claw Card office. Students will receive one more notification to pick up their package before it is returned to sender.
Stopping Mail Service
If a student is no longer a campus resident, they will have to change their address with every individual business that has this organization listed as their home address. USPS policy does not allow individuals to forward mail from a business (Georgia Gwinnett College).