Commencement
Staffing Opportunities
Your participation in Commencement staffing opportunities comprises the heart and soul of each ceremony and positively contributes to the success of the event for our Grizzly family of GGC graduates and their guests.
Sign Up
Commencement Staffing Opportunities
2-Way radio check-in attendants
Enrollment Management assistants
Faculty robing assistants
Floaters (flexible to jump in where needed)
Greeters to welcome attendees
Platform assistants
Program distributors
Script book and lanyard assembly (prior to event)
Special assistants
Staff check-in attendants
Ushers
Usher zone leaders
VIP seating assistants
Water/program setup and pickup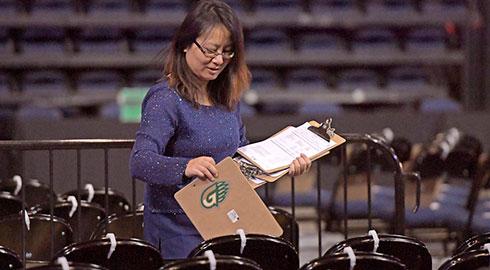 Staffing Expectations and Tips
Orientation, training and rehearsal attendance will prepare you with everything you'll need.
Expectations
Orientation and training (on campus), about an hour, 1-2 weeks prior to the ceremony
Rehearsal attendance at the scheduled venue, 1-2 hours, the day before the ceremony
Ceremony staffing, 5-8 hours, morning check-in 2 hours before ceremony begins
After signing up, Commencement staff coordinators will provide details about your assignments, email calendar invites and answer any remaining questions.
Tips
Wear comfortable shoes for both the rehearsal and ceremony.
Attire during the ceremony should be appropriate business apparel: white shirt (collared for men), black or dark colored pants, skirt or dress, and your GGC name tag (if you have one).
Eat a good breakfast before arriving the morning of the ceremony.
Coffee and water will be available at the ceremony.
Parking and Directions for Faculty and Staff
Parking
Parking is free for faculty/staff in Deck 3 only. You'll need to show your Claw Card for entry into the parking garage.
GPS Address
2693 Meadow Church Road, Duluth, GA 30097
Directions from Sugarloaf Parkway
Turn onto Meadow Church Road and turn left onto Paul McCartney Blvd.
Drive to the bottom of the hill, stop, take a left before the gate and then an immediate right.
Drive until you see Parking Deck 3, making a right into level 3 of the parking deck.
Follow the flags and parking attendant direction.
Once you have parked your car, proceed to the elevator banks on the side of the deck closest to the arena and take the elevator or stairs to Level 2.
Walk through Level 2 toward the back of the arena.
Arrive at the backside of the deck and make a left to walk down the sidewalk.
Enter the arena through double glass doors at the rear of the arena.