Georgia Gwinnett College cinema arts grad scripts a remarkable life
May 8, 2023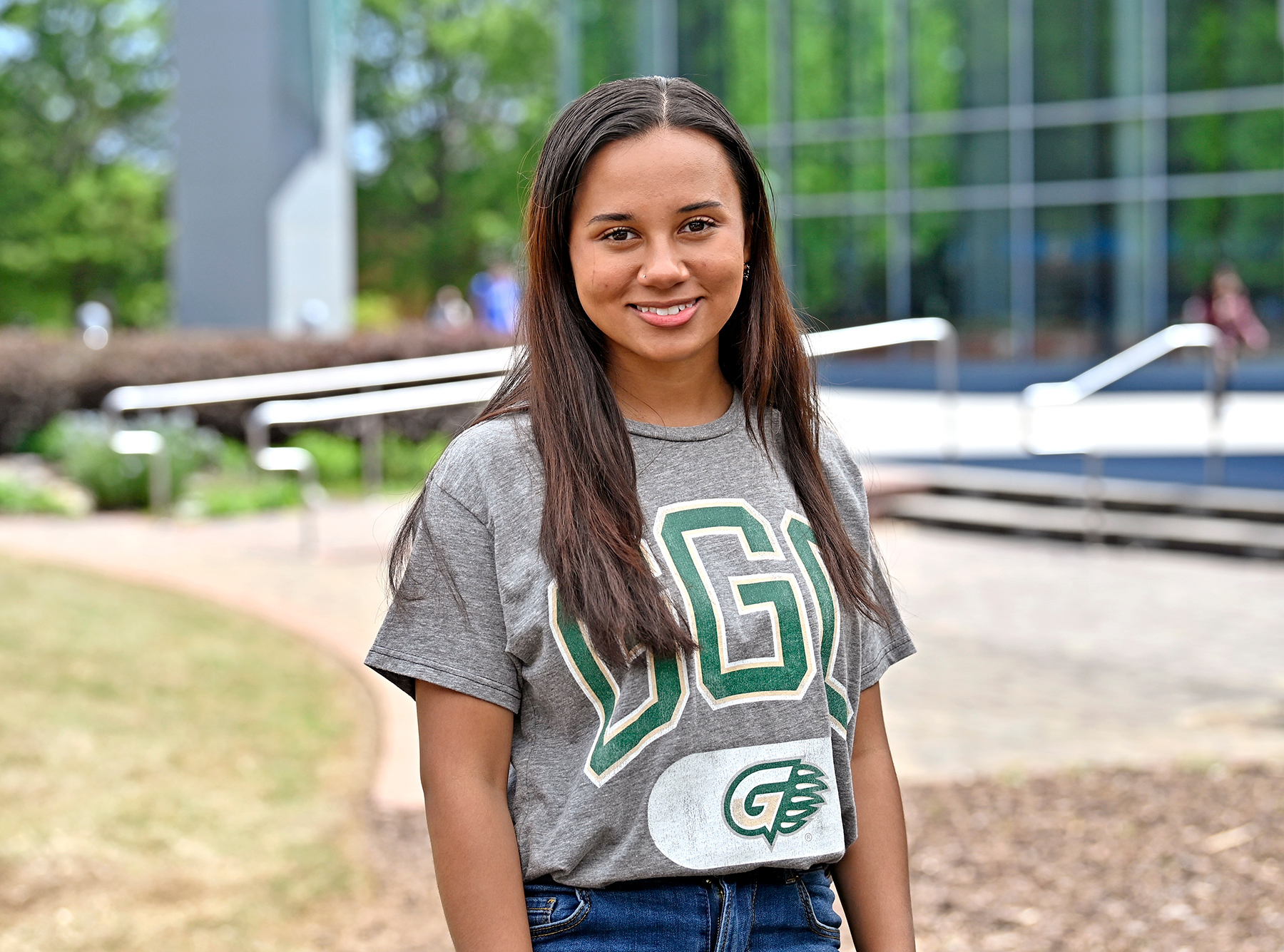 Alexis McMillian has always been keenly aware of the tragedies and comedies of life, so it's no wonder she felt pulled toward film from a very young age.
A child of the foster care system, the odds were stacked against her from the beginning; but when she was five months old, she was taken in by a foster family and stole their hearts. They adopted her when she was about two years old.
"No writer gets to produce their first script," said McMillian. "Rewrites are inevitable. My first rewrite occurred in my early childhood years, following my experience in the foster care system and my eventual adoption. I now had a completely new family and a completely new home, filled with unconditional love, empathy and encouragement. That was the home that instilled the value of education within me, and the home that motivated me to keep persevering, even in the moments that I wanted to go no further."
Her adoptive grandmother, a film lover, helped raise her while her new mom was working long hours.
"My grandmother always had a film playing," said McMillian, "From animation to dramas to international films – she opened up that world for me."
The power of moving pictures made a permanent imprint on her and by the time she was in high school she knew she wouldn't always just watch movies – she would make them.
McMillian's new family raised her in Lawrenceville, Georgia. She went to Gwinnett County public schools in the Dacula Cluster, where Georgia Gwinnett College was in her line of sight from the very beginning.
"Growing up in Lawrenceville, I saw the diversity, community and fun that GGC had to offer before enrolling. Also, my favorite color is green, so it was meant to be!" she laughed.
She enrolled in GGC's Cinema and Media Arts Production program in 2020, just as the COVID pandemic shut down the world. Once again, she turned to film – but this time, the end goal was a degree.
"The world was quite dark at the time, and I began my journey in cinema and media arts as a form of escapism and positivity in life," she said. "During my freshman year, I kept a strict routine: Wake up, walk downstairs, make coffee and log in to my computer to complete my courses. I loved the opportunity to express my creativity and to use that to build a future for myself."
McMillian came to campus as a GGC student for the first time in June 2021 as the country began lifting pandemic restrictions. Masks and distancing rules were still in effect, but that didn't stop her and her fellow students from forming a tight-knit community.
"Having previously experienced the process of building a new home and stepping into a brand-new family, I found attending Georgia Gwinnett College to be a familiar experience," she said.
For the next three years, she dedicated her life to becoming a GGC graduate. She held down jobs as a resident assistant in student housing, a sales associate at a department store and a supervisor at movie theater, all while burning the midnight oil through countless nights planning, producing and editing films for classes and festivals.
Today, McMillian is just 20 years old and will graduate Summa Cum Laude with a 4.0 GPA. She credits her professors for keeping her momentum going through the many challenges posed by the pandemic and the regular ups and downs of a college career, especially associate professor of film Katherine Balsley, who served as McMillian's adviser and oversaw her internship course.
"It is hard being in a creative field because it's so hard to trust oneself. Doubt is always there when you make a piece of art, but Professor Balsley helped me believe in myself. She was consistently encouraging."
After graduation, McMillian plans to work in digital media and marketing and pursue a graduate degree.
McMillian was selected to be commencement student speaker and will share her story at GGC's Spring Commencement, taking place at 10 a.m. May 11 at Gas South in Duluth.