Georgia Gwinnett College's Inaugural African American Male Initiative Summit shines light on possibilities
May 2, 2023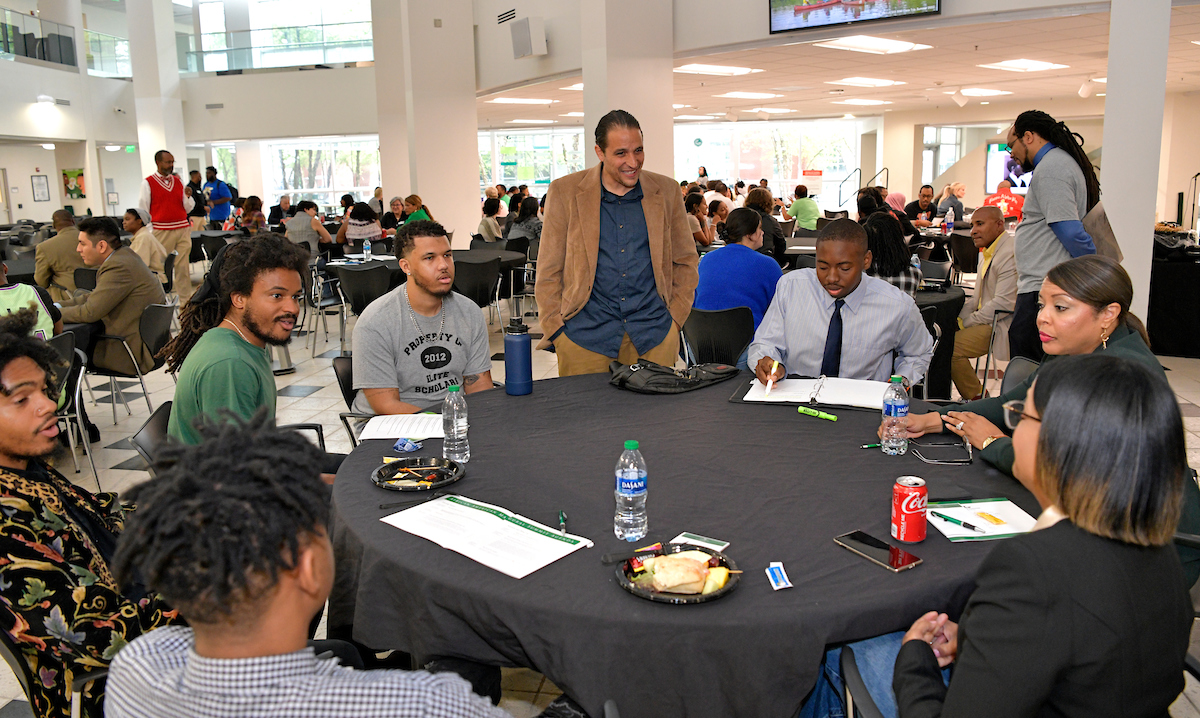 Georgia Gwinnett College (GGC) is taking steps to increase retention and graduation rates among a population that has historically dealt with challenges by hosting the Inaugural African American Male Initiative (AAMI) Summit, held April 28 on the college's campus.
The event, sponsored by GGC's AAMI-Elite Scholars program, created a forum for African American males to share experiences and discuss positive solutions. Throughout the day, students shared their perspectives about the challenges they face as well as the support they have received through AAMI.
Workshops and breakout sessions focused on a variety of topics including wellness, emotional intelligence and navigating through daily life, which aligned with the mission of AAMI to provide an integrated program model of academic, leadership and life skills that support students in successfully completing each academic level and graduate.
By hearing and understanding the perspectives of the students, attendees learned about ways through which they could better support the students on their academic journey and beyond.
Of the African American males seeking bachelor degrees at the University System of Georgia's (USG) nine state colleges, GGC has the largest number. In fact, GGC has 73% of the African American males seeking bachelor degrees. According to USG statistics, 1,358 of the 1,856 students are at GGC.
Business student Aman Evans shared his story of growing up in a Black neighborhood where students were bussed to schools with predominantly white student populations to diversify the student body.
He said being in a diverse classroom was a good experience for him and he was embraced by the community.
Today, Evans, a non-traditional student at age 47, is active in GGC's AAMI program. He said the initiative encourages authenticity, support and brotherhood.
"In AAMI, I am my authentic self," he said. "I think the best advice is to be aware of us as Black men. When you see us, think about what you see and ask us about it. Ask us, see us and talk to us."
AAMI is clearly impacting GGC students with 91% of the young men that started the program in the fall of 2021 coming back in fall of 2022. This retention level speaks volumes to the need for the continued support of this program and the investment in these men and those who will follow them.
The day ended with an opportunity for AAMI-Elite Scholars to socialize, share experiences and network with African American businessmen, elected officials and community leaders and partners.
AAMI-Elite Scholar Gregory Smith was among the students who shared their personal stories with the audience. The 21-year-old software development major from Fayetteville is a resident assistant in GGC's student housing. He said he had a rough start as he entered GGC. But a college staff member, who Smith described as a "beacon of hope," turned that around and encouraged him to join AAMI.
"When I began attending the meetings and virtual Zoom calls, I was able to form unbreakable bonds with the leaders and brethren of AAMI. This began a significant change in my college trajectory," he said.
Smith will graduate from GGC in December to become an IT developer and eventually transition into a corporate project manager role.
LJ Higgins is active in GGC's AAMI program and is also graduating in December. He is majoring in data science and plans to begin his career in the IT industry as a data analyst. Higgins credits the program with providing mentorship, academic support, and leadership opportunities that help students like himself reach full potential.
"I have participated in AAMI since the fall of 2021, and I have learned invaluable, lifelong lessons through this program," said Higgins. He added that it is important to reach out to others with kindness and empathy, listen to their stories and experiences, and stand with them through their struggles and triumphs.
GGC's president, Dr. Jann L. Joseph, attended the event not only as president of the most ethnically diverse Southern regional college for nine consecutive years, but as someone who is acutely aware of the pivotal role that Black males play in the success of families and communities.
She explained that research studies have shown that enrollment of all Black males in institutions of higher learning has been declining over the past 10 years. To reverse that trend, Joseph suggested that it not only takes resilience on the part of students, but it takes an engaged community to support them.
"I have a simple request. Join us in investing in the lives of our students – you know what you can give, but go deep, be a mentor, an advocate, an ally, share your experiences, your time and resources," she said. "These young men are eager and hungry to excel. They have great big hearts and high expectations."
View and download Inaugural African American Male Initiative (AAMI) Summit photos.