School of Science and Technology
Bachelor of Science: Chemistry
Discover Your World
Chemists strive to understand matter in its most basic forms. Discover new ways to influence the modern world – from smartphones and medicines to the food we eat.
Expect modern lab environments, instruments and techniques, and courses intentionally designed based on local employment needs.
Access
Access to bachelor's degrees for more people, where potential trumps privilege, and tenacity and commitment matter more than one's academic past. Honors Program? We've got you covered there, too.
Attentive
Attentive education that focuses on your success with faculty mentorships that linger after graduation. Standards are high, but you've got this with access to tutoring and professors who are engaged in your success.
Affordable
GGC's innovative practices, caring culture and affordable tuition educate today's careers, and change the future for students at all levels, of all ages, from all walks of life.
Ready. Set. Become a Grizzly.
Chemistry Concentrations
Students earning a bachelor's degree in chemistry gain hands-on experiences in cutting-edge techniques with appropriate instrumentation and theoretical, computational frameworks. Students work on real-world applications through integrated lab courses, student research and internships.
This concentration provides both depth of content knowledge and extensive preparation for dealing with the challenges of the 21st century secondary classroom. The concentration includes content courses that assure that students will have sufficient content knowledge in chemistry and related fields. It also includes coursework and experiences that will allow for the development of content, skills for teaching and pedagogical and professional knowledge. This concentration is aligned with the National Science Teachers Association standards and will meet the requirements of the Georgia Professional Standards Commission.
Visit School of Education
This program has specifically been designed to train individuals entering the chemical industry upon graduation. Courses required for this concentration emphasize specific skills that will help graduates be competitive in an industrial workplace. This concentration allows for increased elective hours to pursue optional studies within chemistry or other disciplines. An internship experience at a local company is also suggested.
This concentration is specifically designed to emphasize theoretical applications and the mathematical underpinnings of chemistry. Such higher level courses / experiences include advanced math courses, calculus-based physics, physical chemistry II, and a required research experience. Students graduating with the professional concentration will be prepared to pursue further post-baccalaureate studies in a variety of fields.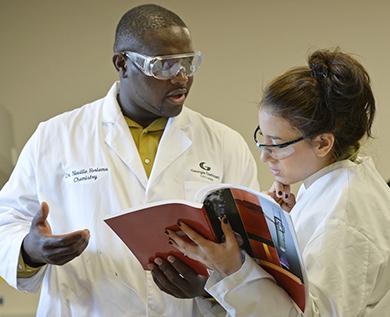 Engaged Learning
GGC fosters partnerships with local community organizations to provide learning opportunities and tangible experiences that move portfolios to the top of the employment pile.
Student/faculty research collaborations
Summer research opportunities at colleges, universities and government laboratories across the country
Academic conference presentations
Internships
Service learning
GGC also creates global engagement through internationalized i‑courses and study abroad opportunities.
Careers and Grad School Prep
The study of chemistry is highly interdisciplinary, leading to exciting careers in a multitude of areas. A chemistry bachelor's degree is also excellent preparation for graduate studies, chemistry education, and a variety of professional degrees including pharmacy, dentistry and medicine.
Alternative energy, plastics, and environmental science
Biosciences
Chemistry industry
Education
Forensic science
High school teaching
Laboratory technician
Medical school
Nanotechnology
Nutrition
Pharmacology
Research scientist
Veterinary medicine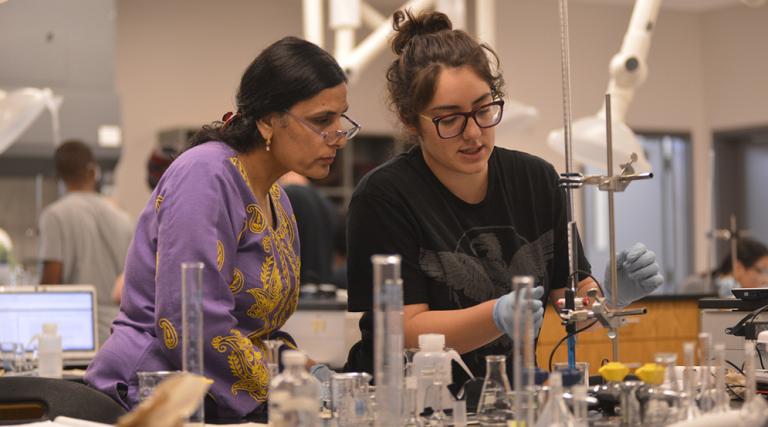 Health Care, Engineering Pre-advising and Articulation Agreements
Interested in pursuing a graduate program or career in health care or engineering? Gain a competitive advantage with course choices, mentoring and research opportunities that start during your GGC freshman year.
Advising, advising checklists and articulation agreements extend to opportunities to earn associates, master's and doctorate degrees from other institutions.
Minors, Certificates, Certifications
Minors, certificates and certifications add value and enhance degrees for enrolled degree-seeking students. Learn more about available professional certificate programs for non-degree seeking students.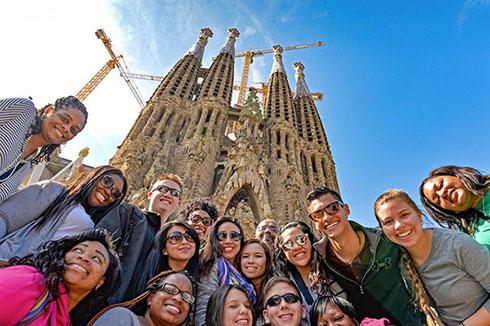 Get Involved
Challenge. Question. Collaborate. Contribute.
Unique to GGC's focus on student engagement, faculty invite students at all levels – including freshmen – to collaborate on research projects, conference presentations, even co-authoring articles published in academic journals.